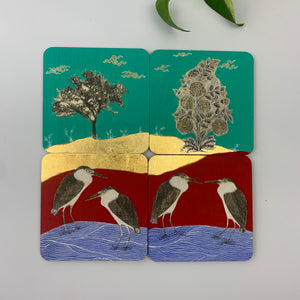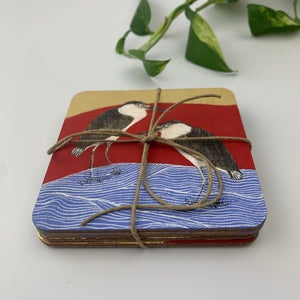 Coaster 16_Takes two to Tango_Set of 4 Coasters
Inspired by the art of Indian Miniature Painting, these wooden coasters are individually hand painted and designed by artist Sumaira Tazeen, who specializes in this traditional art form.
The bright colours, carefully selected imagery, detailing with delicate brushwork and the richness of gold-leaf gilding, all together make these coasters truly an art piece to cherish and uplift your home decor. Perfect for any occasion. A wonderful housewarming or a wedding gift or even to treat yourself.
Enjoy their richness and beauty!
Please give us 1 week time to ship your order
Details:
- Size of each coaster: 4 inches x 4 inches
- Thickness: Approx. : 0.25 inches
- Soft cork on the underside to prevent any scratches to furniture.
- Sold in a set of 4
- We are happy to do large orders if you'd like more than 4 in a set. Just let us know.
- Due to the coasters being hand painted, no two coasters are identical. There will always be variations in the designs even in the ones replicated on order. They are truly unique!
Care:
As with all handmade things, handle with care.
The coasters can be wiped down using a damp cloth or kitchen towel, avoid washing in dishwasher or submerged in water. The product is water resistant but not waterproof.
For any questions please don't hesitate to message us.
Materials:
Ply wood, acrylic paint, imitation gold-leaf, cork sheet and semi gloss polyurethane varnish to protect fade, scratch and stains.
---